28 Sep INSEAD Alumni Golf Tournament & Dinner, Zurich

Dear Alumni
You are invited to the Zurich Chapter's first alumni golf event at Golf Kyburg on September 28, 2021.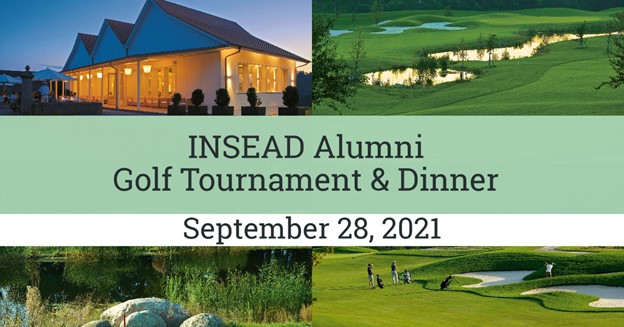 INSEAD Alumni Golf Tournament & Dinner, Zurich
September 28, 2021
Join us for a fun tournament and dinner at Golf Kyburg. Partners and friends are very welcome to participate. Tee times start at 13:00, The play is Texas Scramble with 2, 3 or 4-players per flight (put together randomly). There will be snacks at the ninth hole, an aperitif after the game, and dinner at 19:30. Non-golfers are welcome to join for dinner. Tournament places are limited and will be allocated on a "first come – first serve" basis. Do not hesitate to send an email to Stefan Buser if you have any questions.
Key Facts
When: Tuesday September 28, 2021
Where: Golf Kyburg, Rossbergstr 40, 8310 Kemptthal (near Zurich)
Tickets: CHF 250 per person (includes green fee, tournament expenses, snacks at 9th hole, an aperitif and 3-course dinner) // CHF 90 Non-Golfer Dinner (includes dinner and aperitif).
Please note: Drinks beyond aperitif are not included.
Registration: https://fr.xing-events.com/GolfZH2021.html

Deadline to register is 19 September 2021. When registering have your official handicap (HCP) and home golf club membership details handy. The tee times for participants will be available on 27 September on the Golf Kyburg website https://www.golf-kyburg.ch/turniere
INSEAD Alumni Association Switzerland
Kay Noh, EMBA'04D, Event Organizer
Stefan Buser, IDP'18, Event Organizer
Reto Gygax, MBA 13D, Zurich Chapter President
events@insead.ch