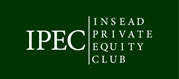 The INSEAD Private Equity Club (IPEC) serves as a world-class forum for those interested in all aspects of the private equity industry.
IPEC's goal is to provide opportunities for its members to learn more about private equity, interact with key industry players, and meet fellow students and alumni with similar interests. With over 1000 INSEAD alumni working in private equity firms worldwide, IPEC's goal is to support INSEAD's thought leadership, participation and recognition in the field by assisting an increasing number of INSEAD MBA graduates pursue an exciting career in or related to private equity.
Martin Spirig,  MBA'06J
IPEC Switzerland President
Martin Spirig is a partner at Invision, a leading small/mid-cap private equity firm with offices in Switzerland and Germany. His investment interest is German and Swiss SMEs with market leading positions in their respective fields. He is responsible for Invision's investments in Kraft & Bauer and Schneider and is a member of the respective boards. Previously, he was also looking after the investments in RSD (divested in 2016), Boost (divested in 2015) and Feintechnik (divested 2014). Prior to Invision, Martin was a consultant at Bain & Company in Singapore with mandates throughout South East Asia, Hong Kong and Australia. His clients were, among others, global private equity firms and Asian sovereign wealth funds. Before Bain, Martin Spirig was an IT project manager at Migros-Genossenschafts-Bund. Martin Spirig holds an MBA from INSEAD, a doctorate of law from University of St. Gallen and he was a visiting scholar at UC Berkeley.
Katja Berlinger, MBA'05
Katja Berlinger specializes in professional board membership services and the management of private equity investments, with a focus on entrepreneurial, strategic and legal aspects. Katja is a director in several early-stage life science and healthcare companies. Prior to this, Katja was a member of the executive committee office in Zürich. She is admitted to the Zürich bar and holds an MBA from INSEAD (2005 promotion).
Martha Heitmann, MBA'07
Martha Heimann is an Executive Director at LGT Capital Partners, an alternative investment manager with over USD 25 billion in assets and management and more than 300 institutional clients. Prior to joining LGT Capital Partners, Martha worked in business development for Telephia Inc. in San Francisco. From 2001 to 2003 she was a corporate investment banking analyst for Bank of America Securities in San Francisco. Martha holds a BA in Economics from the University of Chicago and an MBA from INSEAD (2007 promotion). She is fluent in English and Japanese, and is conversant in German.
Pan Pan, MBA '03J, CAIA
Pan Pan is the founder and managing partner at Pantèra Ventures, a Swiss investment advisory and consulting boutique as well as investment advisor to a family office. Priot to this, Pan was a portfolio manager (head of China) and deputy head of investment development at Bunge Investment Management, the asset management group of the global agribusiness Bunge Limited. Prior to that, Pan worked in the consulting, investment banking and consumer goods industry in the US and Europe.
Pan holds an BA in Economics with honours and magna cum laude from Northwestern University (USA), a MBA form INSEAD (France) and the Chartered Alternative Investment Analyist (CAIA) designation. She was a Global Leadership Fellow and associate director at the World Economic Forum and a LGT Venture Philanthropy iCats Fellow. Before her business career, Pan was a professional pianist trained at the Shanghai Conservatory of Music in China and the Eastman School of Music (University of Rochester, New York) on full scholarship. She is a regular contributor to INSEAD knowledge, INSEAD's multi-channel social media magazine profiling original faculty research and expert opinions on professional topics and current affairs.
Roman Pelka, MBA'00J
Roman Pelka has been in the alternative investment industry for over 15 years. Prior to founding Montfort Capital, he was a Managing Director at the Carlyle Group. Prior to joining Carlyle, Roman was Head of European Distribution at Aspect Capital, of Europe's largest hedge funds. Before that, he was with HgCapital, where he focused on European mid-market buy-outs. Roman started his career with the European Bank for Reconstruction and Development (EBRD), making private equity investments in Eastern European financial institutions. He receives his MBA from INSEAD (France) and his undergraduate business degree from the University of Vienna. Mr. Pelka is a Chartered Alternative Investment Analyst (CAIA).