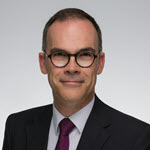 Philippe Mauron, MBA'95J
President
Philippe Mauron is a seasoned manager in the Financial Services industry. Over the course of his 25+ years career, he has held various positions in corporate and investment banking, wealth management and private equity, primarily with UBS. He has also participated directly in technology start-ups as investor and manager. He holds an MBA from INSEAD (95J) and a Bachelor Degree in Economics from University of Geneva (90).
A fan of the INSEAD community, he has been on the Geneva chapter committee since 2005 and was its President from 2008 to 2011. He has been serving as Vice-President of the INSEAD Alumni Association Switzerland since 2017.
Mafalda Tenente, MBA '06J
Vice-President
Mafalda Tenente is a Strategy Advisor and the former Head of Marketing Global Emerging Businesses in the Animal Health division at Eli Lilly, and previously Novartis. She has held a variety of roles in Marketing, Strategy and Finance in healthcare, hospitality and arts.An active member of the INSEAD alumni community, Mafalda served on the Basel Chapter committee for three years. She currently serves as an expert for the Kickstart Accelerator program, part of the new Digital Switzerland ecosystem.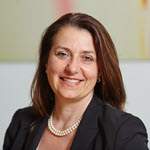 Monika Naef, IEP F/S'02 D
Treasurer
Monika E. Naef is Partner & Owner of DUFOUR Advokatur (Dufour Attorneys).  Her focus areas are business law, business development and R & A, international business relations, and trade law. After earning a degree in Law from the University of Basel and passing her bar-exam, Monika became in-house legal counsel for a multinational pharmaceutical and chemical group, with global leadership responsibilities as well as simultaneously heading the multifunctional M&A review team and the Trademarks Department. She founded DUFOUR Advokatur in 2005 together with three partners and is now in private practise. She is a Certified Global Negotiator (CGN-HSG). Born in the UK, her formative years were spent on three continents (UK, USA, Switzerland and Japan). She loves offshore sailing and has recently acquired a Harley Davidson. She has been engaged with the INSEAD Alumni Association since 2012 as member of the committee of the Basel chapter (treasurer) and was elected as treasurer for the INSEAD Alumni Association Switzerland in 2018.
Laurence Amand-Jules, MBA '99D

Laurence Amand-Jules, is a Non-Executive Board Member and the former CFO at Sportfive International, Lagardère Sports. Before that she founded and led the first French crowdfunding startup, Charitic. Earlier she worked in FMCG performing strategic planning, finance and analysis functions.She is an active INSEAD alumna and is involved in several professional women's networks in the Geneva/Lausanne area. She currently serves as a mentor for Fintech Fusion, a start-up accelerator in Geneva.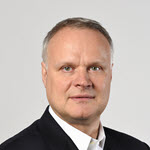 Alessio Ascari, MBA'94J
President Ticino Chapter
Alessio is a digital health entrepreneur and an advisor in telecommunications and digital health in Europe and in emerging markets. Most recently he founded and led AMICOMED SA that developed and markets an innovative digital service to manage blood pressure, and has been engaged in several other entrepreneurial initiatives. Prior to this he worked for almost twenty years in McKinsey & Company where he served telecommunications and high tech clients around the world on multiple dimensions and spearheaded new initiatives on the impact of technology, from the potential impact of smartphones to latest by founding and leading globally the Firms' Global m-Health initiative. He holds an MBA from INSEAD in Fontainebleau (Henry Ford prize) and a Master's degree in Engineering from Politecnico di Milano.
Bernhard Escher, MBA'10'J
Head of Entrepreneurship Club
Head Business Management for Asia Switzerland, Bank Julius Baer Co. & Ltd.
Chief Operating Officer, Julius Baer Nomura Wealth Management Ltd.
Bernhard has worked in Private Banking for 15 years, in Zurich, Geneva and Hong Kong. He is currently the Business Manager for Julius Baer's Asian business out Switzerland, with a focus on developing and executing strategic initiatives. In addition, he is the COO for Julius Baer Nomura Wealth Management, a joint venture between Julius Baer Group and Nomura Holdings, with offices in Zurich and in Tokyo.
Bernhard holds a B.A. in International Business & Economics from International Christian University in Tokyo, Japan and is an INSEAD MBA 10J alumnus.
Julien Firmenich, MBA'08J
IAF President Switzerland
Julien Firmenich is Vice President of Firmenich Ingredient Division in charge of product portfolio strategy and promotion. He has held a variety of roles in the Perfumery and Ingredient Divisions, in particular in product development and sales. Previously Julien developed a start-up company based in Singapore active in fine metallurgy for horological and luxury applications. He is an active member of the INSEAD alumni community and joined the INSEAD Campaign Board in 2018. Julien holds an MBA from INSEAD and a Masters in Economic Science from HEC Lausanne.
Marc Galin, MBA'99J

Marc has an extensive experience in business aviation spanning engineering & product development to strategy, marketing, product & program management.  A graduate of McGill university in Mechanical (B. Eng '93) and Aerospace Engineering (M. Eng '97), he worked for Bombardier, Aeroplan (Air Canada), RUAG, and now Jet Aviation. A Canadian, he now resides and works in Switzerland for the last seven years. He is President of the Basel INSEAD Alumni Chapter since the beginning of 2013.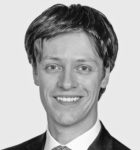 Reto Gygax, MBA'13D
Zürich Chapter President
Reto is a partner of VIALEX Attorneys at Law with offices in Zürich, Berne and Lugano, a company he co-founded in 2015. He has been working in the legal industry since 2008 and his practice focuses mainly on domestic and international litigations, negotiations, transactions, as well as risk management and legal advice in regulated industries. Prior to this he worked for 10 years as an entrepreneur in international IT consulting and project management, focusing on enterprise strategy, software management, and event organization, with projects in North and South America, Asia, Africa and Europe. Reto is Swiss and lives in Zürich with his wife Martina and their daughter Rosa. 
Marco Montefiori, MBA'05J
President INSEAD Alumni Energy Club Switzerland
Marco Montefiori is a Managing Partner at Payflow Digital. For over 20 years he has been fostering growth in some of the largest global energy trading players, both private and governmental. His experience includes structuring, execution, and auditing of international JVs, long term prefinancing agreements, M&A transactions and G2G programs. Marco has undertaken governance roles in profit and non-for-profit organizations in Germany, Switzerland, US, India and Italy. He has also been investing in and advising technology startups since early 2000. He graduated in Economics from University of Genova (1997),  has INSEAD MBA, and completed the IN-BOARD program in 2019. Marco is a Swiss citizen, married, an involved father, and lives in Geneva.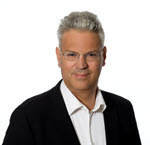 Aleks Ruzicic, MBA'97J
Healthcare Club President
Aleks is Partner, Executive Insight Healthcare Consultants, Zürich. Aleks graduated with an MBA from INSEAD in 1997 and has been involved in the Swiss alumni community since 2005, e.g. as member of the Swiss Committee, President of the Swiss Healthcare Club. Aleks is also a co-founder and vice-president of the INSEAD Healthcare Alumni Network. After graduating from University of Zürich with a Master of Science in Chemistry, he has worked almost 20 years in consulting, starting at McKinsey & Company in 1994. Since 2000, he focused exclusively on the healthcare/life sciences sector at Elsevier MDL, Roland Berger Strategy Consultants and IMS Consulting Group. As a Partner at Executive Insight, a specialist healthcare consultancy that supports (bio)pharmaceutical companies to successfully prepare, launch, and commercialize their products, he advises international pharmaceutical/biotech, medical devices and other companies in the healthcare sector on strategic and operational topics, particularly in the commercial area. He has published his insights continuously in a series of reports and articles. 
Martin Spirig, MBA'06J
IPEC Switzerland President
Martin Spirig is a partner at Invision, a leading small/mid-cap private equity firm with offices in Switzerland and Germany. His investment interest is German and Swiss SMEs with market leading positions in their respective fields. He is responsible for Invision's investments in Kraft & Bauer and Schneider and is a member of the respective boards. Previously, he was also looking after the investments in RSD (divested in 2016), Boost (divested in 2015) and Feintechnik (divested 2014). Prior to Invision, Martin was a consultant at Bain & Company in Singapore with mandates throughout South East Asia, Hong Kong and Australia. His clients were, among others, global private equity firms and Asian sovereign wealth funds. Before Bain, Martin Spirig was an IT project manager at Migros-Genossenschafts-Bund. Martin Spirig holds an MBA from INSEAD, a doctorate of law from University of St. Gallen and he was a visiting scholar at UC Berkeley. 
Dimitri Vaharis, MBA '17J
President Geneva Chapter
Dimitri started his career at PwC. He stayed more than 6 years and developed an expertise both in financial audits and M&A within the banking sector. After his MBA, Dimitri transitioned in asset management and co-leads a boutique investment firm in Geneva. He's is primarily focussed on business development, as well as technology and regulatory innovation.
Dimitri has been on the Geneva chapter committee since 2017. He has been organizing the 2019 and 2020 Verbier ski week-end which is the leading social event organized by the Geneva chapter. Dimitri was also part of the Organization Committee of the 2019 INSEAD Alumni Forum (Europe) that took place in Geneva.
Apart from work, he is also a seasoned sailor and balances his work life to follow his passions
Alexander Wyss, MBA'01D
Ex-Officio / IAF
Alexander is a partner at global law firm Baker McKenzie with 20 years of experience advising Swiss and international clients on cross-border and national deals with a special focus on real estate transactions, private & venture capital, mergers & acquisitions and fund structuring. He is co-chair of the Firms' real estate transaction group and is ranked among the leading lawyers in his areas of practice by Chambers Europe and Legal500. Alexander holds an MBA from INSEAD (01'D), a PhD from University of Zurich (1999) and is an attorney at law (University of Berne, 1996). He is a regular speaker at seminars and lectures at the CUREM master and executive programs of the University of Zurich. He also acts as business angel, investor and/or director. Alexander is Swiss, married, has three daughters and lives in Zug. He has been engaged with the INSEAD Alumni Association since 2008 as president of the Zurich chapter committee. Alexander loves outdoor sports such as jogging, cross-country skiing and biking.