17 May Swiss INSEAD Alumni Tech Entrepreneur Night
Dear Alumni,
You are invited to the launch of the €40K INSEAD Swiss Alumni MBA Scholarship for Swiss tech entrepreneurs. Swiss INSEAD alumni welcome members of the EPFL/ETHZ alumni community and MBA candidates to this special event.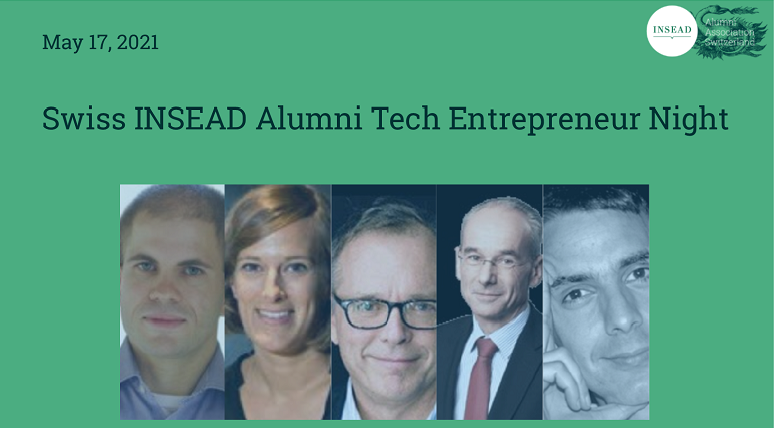 Swiss INSEAD Alumni Tech Entrepreneur Night     
May 17, 2021
Join us to launch the new the Swiss Tech Entrepreneur Scholarship at an event featuring Henning Piezunka, INSEAD Assistant Professor of Entrepreneurship, one of INSEAD's most appreciated teachers. He will present INSEAD as a world-leading business school for future entrepreneurs, followed by a panel of Swiss entrepreneurs, ready to share their experience at INSEAD and beyond. The event is organized and moderated by Roland Mattis, MBA'87D.
The Swiss Scholarship fund, created by the Founding Donors Group and the INSEAD alumni of Switzerland is now offering a second scholarship for the INSEAD MBA programme. Specifically, in addition to the €20K Swiss Scholarship, which has already been granted to four Swiss recipients, there is the €40K Swiss Tech Entrepreneur Scholarship. For more information  see https://www.insead.ch/swiss-tech-scholarship.
Because we are looking to encourage the best potential candidates in Switzerland to apply and enjoy INSEAD, and then succeed in their entrepreneurial careers,  please feel free to share the invitation within your circles.

Panel (alphabetical order)

Moderator

Key Facts
When: Monday, May 17, 2021
Where: Zoom at 18:00-19:00
Registration: https://en.xing-events.com/mbascholarship21 
The Zoom link will be emailed automatically by XING Events after registering. Check your spam folder if the XING Events email does not appear immediately in your inbox.
INSEAD Alumni Association Switzerland
Roland Mattis, MBA'87D, Event Organizer
Leila Ojjeh, MBA'01D, Tech Scholarship Team
Brigitte Reverdin, MBA'81 INSEAD Alumni Fund President, Switzerland
events@insead.ch