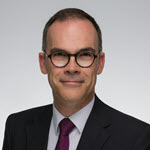 President's Message  
Welcome to the INSEAD Alumni Association Switzerland! 
Being an alum of INSEAD means many rewarding experiences long after the intense and memorable period on campus. Beyond the strong personal links with your fellow students, I invite you to join and engage in our lively Alumni community, which thrives on keeping the INSEAD spirit very much alive in Switzerland. 
The goals of the INSEAD Alumni Association Switzerland are to facilitate and promote contacts and cooperation among the Alumni, to support INSEAD's vision and to strengthen the engagement between INSEAD and the alumni community in Switzerland. Lifelong learning and growing personal and professional relationships are the core drivers of our volunteer-run Association. We are a non-profit organization and one of 49 INSEAD National Alumni Associations around the world.
There are many ways to engage in the Swiss alumni community, including:
Attending some of our 80 business, social and cultural events each year, promoting lifelong learning and friendship across Switzerland: please have a look at www.insead.ch.

Stay connected, renew and maintain friendships with the alumni database on MyINSEAD and our private Linkedin group

Become an event volunteer by participating in our regional committees in Geneva, Zurich, Basel or Ticino or in a theme-centric club such as the Healthcare Club (CHIC), the Private Equity Club (IPEC) and the INSEAD Women in Business club (IWIB), which is  open to all alumni interested in gender diversity and inclusion.

Help the INSEAD Alumni Fund (IAF) with fundraising activities and/or become a donor.
I invite you wholeheartedly to become a member of the INSEAD Alumni Association Switzerland and to enjoy all its benefits: active engagement is rewarding and fun!  If you have not yet done so, please click here to become a member. You'll join a community of more than 1'000 active members, out of a total 3'200+ alumni in Switzerland.
Looking forward to meeting you in person or online at one of our upcoming events.
Yours cordially,
Philippe Mauron, MBA'95J – President
INSEAD Alumni Association Switzerland