24 Feb Loyal VC: Re-inventing Angel Investing (IPEC Geneva)
Geneva, IPEC
/
18:00
-
19:00
Dear Alumni,
You are invited to an after-work virtual event about early-stage venture investing, organized by the Geneva Chapter of the Swiss INSEAD Private Equity Club (IPEC).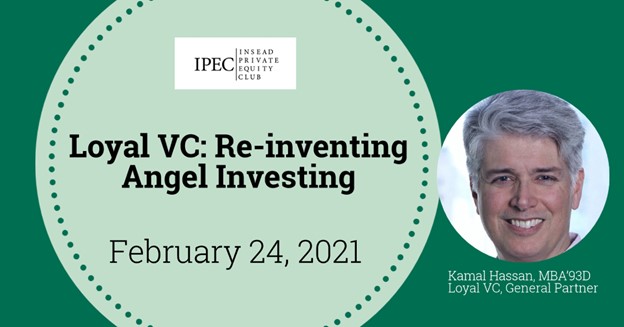 Loyal VC: Re-inventing Angel Investing (IPEC Geneva)
February 24, 2021
Join us to hear why top investors include private market assets such as private equity (PE), venture capital (VC) and angel investing in their portfolio. Kamal Hassan, MBA'93D and co-founder of Loyal VC, will describe the fundamental math for making money in private market assets, the pros and cons of each strategy together with the three sobering realities of VC and angel investing. Kamal will also discuss about the differentiating approach of Loyal's Global Index VC fund, the returns to date, as well as the secrets to their returns. Loyal VC has quickly built a portfolio of over 125 companies in 35 countries in a wide range of industries. Over 30% of its portfolio is headed by women, ~30% are from emerging markets and 80% address an SDG goals.
Key Facts
When: Wednesday February 24, 2021 18:00 – 19:00 CET
Where: Zoom (Login details will be sent upon registration in the booking confirmation email from XING. Check spam filters if it does not immediately appear in your inbox.)
Registration: On Xing events https://www.xing-events.com/IPECGEVC
INSEAD Alumni Association Switzerland
Konstantinos Dermanis, MBA '13J IPEC Geneva President
Bernardo Bluhm, MBA '15J IPEC Geneva Vice-President
Mina Draganova, MAP'17J, Geneva Chapter President
events@insead.ch