23 May Young Alumni Welcome Drinks, Soleil Rouge, Geneva
Geneva, Social

/

19:00

-

22:00
Dear Alumni,
You are invited to informal afterwork drinks in town, hosted by the Geneva chapter.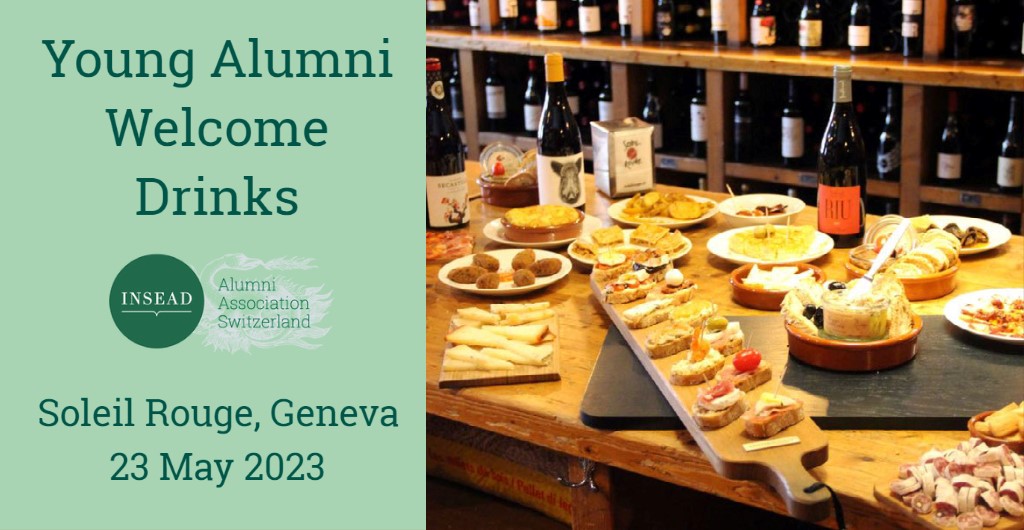 Young Alumni Welcome Drinks, Soleil Rouge, Geneva
Tuesday 23 May, 2023
Feel like tasting Spanish wine and tapas while catching up with old friends or making new ones among our most recent graduates ? Please join us at our next alumni afterwork event on Tuesday May 23 at 19:00 at Soleil Rouge (close to Rive).
Hosted by the Geneva Chapter, these regular informal gatherings are a wonderful way to unwind after a long day at work and connect with a diverse group of alumni from the area, in a fun and vibrant atmosphere. The small event fee includes tapas, while drinks will be at your own expense. Looking forward to seeing you there !
Key Facts
When: Tuesday 23 May 2023, 19:00
Where: Soleil Rouge, Boulevard Helvétique 32, 1207 Genève
Tickets: CHF 25 NAA Members (paid-up) // CHF 35 Alumni non-members and guests 

Registration: https://etickets.infomaniak.com/shop/3f8M7bF08t/ 
INSEAD Alumni Association Switzerland
Odile Astréoud, MBA'15J, Event Organizer
Dimitri Vaharis, MBA'17J, Geneva Chapter President
events@insead.ch