21 Oct Are Ecosystems A Tool To Foster Healthcare Innovation?
Dear Alumni, 
You are invited to an in-person event in Lausanne about innovation ecosystems and healthcare companies, hosted by the Swiss INSEAD Alumni Healthcare Club.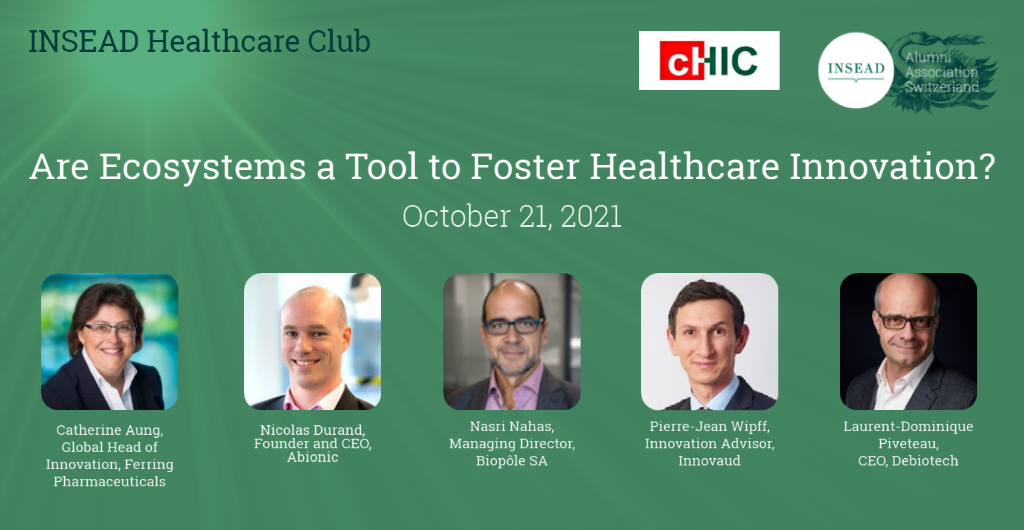 Are Ecosystems a Tool to Foster Healthcare Innovation?
October 21, 2021
Innovation is at the heart of the healthcare industry. For small companies, it is essential to their existence and growth. For larger companies, it is a way to strengthen or maintain market position. Several ecosystems have evolved to support healthcare innovation and help overcome some of the challenges, such as long lead times and the need for a range of skills. Ecosystems connect companies with universities, public institutions, medical research centres and each other, supported by public and political authorities. The panel will discuss how such ecosystems play a role in the innovation process, the elements that foster innovation, and lessons learned. Join us to engage with healthcare industry innovation experts and stay for the apéro riche afterwards.
Speakers
Key Facts
When: Thursday October 21, 2021 at 18:00
Where: Aquatis Hotel, route de Berne 148, 1010 Lausanne
Tickets: CHF 65 INSEAD Swiss NAA Members (paid up)// CHF 85 INSEAD Alumni Non-members & Guests
Please note: Valid COVID-certificates are required for participants.
Registration: on XING https://en.xing-events.com/CHIC21Oct
INSEAD Alumni Association Switzerland
Aleksandar Ruzicic, MBA'97J, Swiss Healthcare Club President
Laurent-Dominique Piveteau, MBA'01D, Swiss Healthcare Club Vice President
events@insead.ch