19 Jan IAA Why Some Boards Add Value and Some Don't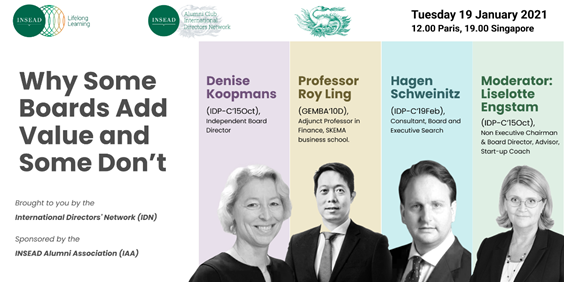 Why Some Boards Add Value and Some Don't
Tuesday, 19 January, 12:00 pm CET
Join this IAA sponsored webinar with a one-hour panel discussion about the innovation and disruption challenge: practical steps to value creation for boards. How companies adapt to innovation and disruption is one of the most studied management issues of the era. What is and less well understood is how boards deal with the innovation and disruption challenge. Research indicates that many boards are not equipped for this task: often lacking a deep understanding of their firm's strategy, industry or how they create value.
In this webinar, we will present recent INSEAD/IDN research on board competence and look at some of the ways that boards have been able to meet the challenges of board renewal and effectiveness, including:
Key competencies for boards during disruptive times

Adding strategic insights into the external environment

How boards can engage better with management in strategy formulation

How boards can ensure that resource and asset allocations create "strategy as intent".
Tickets: This event is free for paid-up Swiss NAA and IAA members. Entry fee for Alumni non-members £14.95
Registration on Eventbrite https://www.eventbrite.co.uk/e/why-some-boards-add-value-and-some-dont-tickets-125636844183