17 Nov Mobilizing on Climate Change (Cross B-School Alumni Event)
Dear Alumni,
You are invited to attend an evening event in Zurich where climate change solutions from a variety of perspectives will be discussed. This event is part of the "Business Leaders for a Sustainable Future" initiative by alumni from several leading business schools.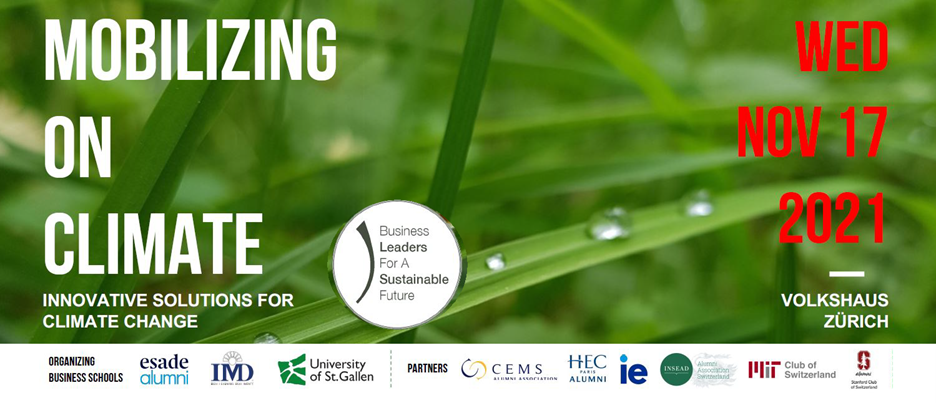 Mobilizing on Climate Change (Cross B-School Alumni event)
November 17, 2021
The Mobilizing on Climate change event at Volkshaus in Zurich features two keynote speakers, Prof. Vanina Farber, elea Chair Social Innovation, IMD  and Annette Mann, SVP Corporate Responsibility, Lufthansa Group, plus a panel discussion (see list below). A limited number of tickets are available for INSEAD alumni at a special price of CHF 55 (instead of CHF 65). Please note that alumni partners and friends should use the General Admission price of CHF 65.
Moderator
Dr. Falko Paetzold, Director, Center for Sustainable Finance & Private Wealth (CSP), University of Zurich
Panel
Stephan Neff, CEO, myclimate
Franziska Barmettler, Member of Parliament, Head of Sustainability, IKEA
Ulrike Pfreundt, Co-founder, Ocean Scientist, PhD ETH rrreefs
Martin Weymann, Head Sustainability, Emerging and PRM, Swiss Re
Key Facts 
When:  Wednesday November 17, 2021  18:00
Where:  Volkshaus Zürich, Stauffacherstrasse 60, 8004 Zürich
Tickets: INSEAD Alumni CHF 55
Registration: On eventfrog https://eventfrog.ch/de/p/diverses/mobilizing-on-climate-insead-community-6848113432236375318.html
Please note: Valid COVID-certificates are required for all participants (3G).
INSEAD Alumni Association Switzerland
Reto Gygax, MBA'13D, Zurich Chapter President
events@insead.ch