14 Jan INSEAD Ski Weekend, Verbier 2022
Geneva, INSEAD
/
08:00
-
January 16
Dear Alumni,
You are cordially invited to the 23rd edition of the Annual INSEAD Verbier Ski Weekend that will take place from January 14 to 16, 2022.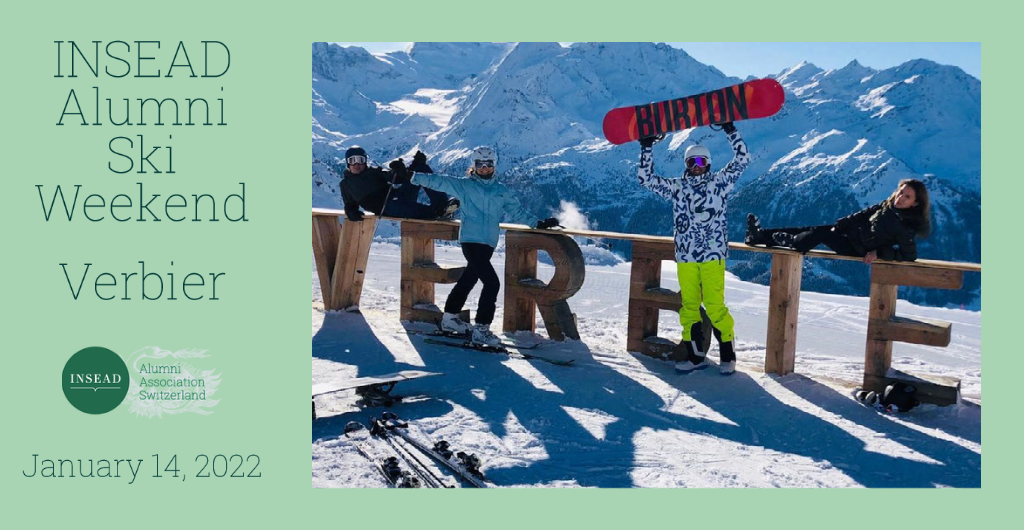 INSEAD Ski Weekend, Verbier 2022
January 14, 2022
The INSEAD Alumni Association Switzerland volunteers are looking forward to welcoming you to Verbier for the 23rd edition of the now traditional ski week-end. It's a great opportunity to hit some fresh powder, make new friends and spend quality time with old ones in an idyllic setting.
There will be day-time activities led by our volunteers, which we will communicate about in the weeks to come.  Participation in the week-end activities is free. We ask you kindly to register to ensure swift communication for inclusion in group activities.
There are two optional dinners that are being organized, on Friday and Saturday night respectively. We kindly ask you to book your place by December 23.
The ski week-end will comply with the COVID regulations in force at the time. We will communicate more details closer to the date.
We look forward to seeing you in Verbier in January!
Key Facts
When: Friday January 14 to Sunday January 16, 2022
Where: Verbier, Switzerland
Please note: you need a vaccination or recovery certificate (2G rule) to participate in the Ski Weekend activities.
Registration for Ski Weekend
https://en.xing-events.com/skiverbier2022
Participation in the Ski Weekend is free. Please register to ensure that you're included in communication for group activities. Please fill out the contact information for each participant.
Registration for three-course dinner on Friday night
https://www.xing-events.com/VERBIERDINNER22
When: January 14, 2022
Where:  Chez Martin Pizzeria Restaurant, Route de Verbier Station 100, 1936 Verbier
Menu: Three course meal
Price: CHF 50 per person
Registration for fine dining three-course dinner on Saturday night
https://www.xing-events.com/VERBIERDINNERLACHANNE
When: January 15, 2022
Where: Restaurant La Channe, Place Centrale, 1936 Verbier
Menu: An exquisite 3-course meal to delight even the most sophisticated of palates. La Channe delighted us in 2020 and we are going back.
Price: CHF 115 per person.
INSEAD Alumni Association Switzerland
Doina Cebotari, MBA 13, Event Organizer
Dimitri Vaharis, MBA 17J, Event Organizer and Geneva Chapter President
events@insead.ch