Dear Alumni,
INSEAD alumni in Switzerland are invited to the second edition of the Career Women's Forum (CWF) Women on Boards panel discussion series in Geneva on June 12, 2018. The invitation is enabled by the partnership between INSEAD Women in Business Club of Switzerland (IWIB) and CWF. INSEAD NAA members will receive CHF 30 off the wob non-member ticket price. To benefit, send an email to events@insead.ch to request the coupon code and registration instructions (pdf).
Board Gender Quotas: A nice bad idea, or the future of governance?
June 12, 2018, Geneva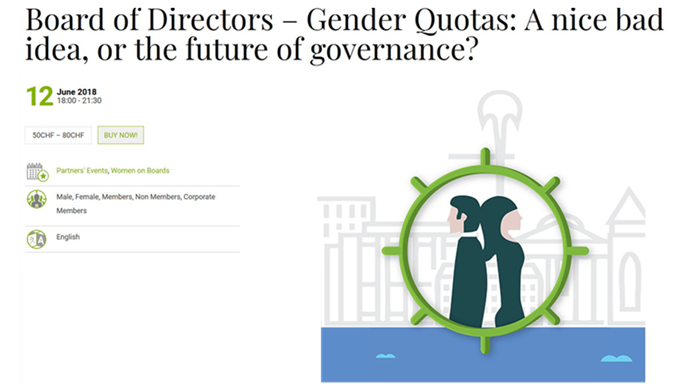 This year's panel will cover the heated debate on the participation of women in corporate and public boards. Why does gender equality and diversity matter for corporate boards? Are you for or against gender quotas?
Speakers
Esther-Mirjam de Boer: Co-Owner and CEO GetDiversity GmbH
Anne Hornung-Soukup: Chair of the Board Transports publics genevois (TPG)
Denise Koopmans: Board member Sanoma
Prof. Gilbert Probst: Chairman BCGE Group
Panel moderated by Michael McKay, Founder and Presenter "The McKay Interview".
Key Facts
When: Tuesday, June 12, 2018
Where: : Graduate Institute  Chemin Eugène-Rigot 2 Genève, 1202 Switzerland
Program
18:00 Registration
18:30 Conference
20:30 Cocktail Dinner
Tickets: CHF 50 with coupon code
Registration: email us at events@insead for registration instructions.
INSEAD Alumni Association Switzerland
Laurence Amand-Jules, MBA'99D, IWIB President, Geneva
events@insead.ch