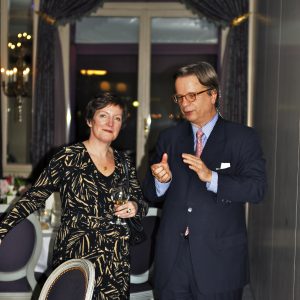 Text & Pictures by Kerry-Jane Lowery, Writer, Photographer & Journalist
"For those of you in a hurry, the executive summary of tonight's talk is: The 20th century is over." With these opening words from Avivah Wittenberg-Cox, the woman behind Women Who Mean Business, the audience settles down to find out just what she means by this.
Monday evening 6pm sharp, and the Salon de Brunswick at the Beau-Rivage in Geneva comes to life as INSEAD alumni and guest business schools gather for the first talk of the year.
As the room fills up and resounds to the hum of voices greeting friends and colleagues, it is obvious that this topic of Why and How Women Mean Business is a hot one.
Pepsico, the event's sponsor, is out in force this evening keen to hear Avivah speak and partake in the lively conversation which follows over drinks and eventually dinner. Forty INSEADers mingle with a large number of people from other networks including the Harvard Business School, IMD, Kellogg's, LBS, etc. representing a host of sectors such as finance, industry, academia, government and coaching.
Leila Ojjeh's, President IAA Geneva, highlights how alumni associations can play a key role in helping women develop their career and nurture their network after business school in her introduction to a packed room of over one hundred participants. Avivah then takes to the floor and reveals the 'whys' and 'hows' by beginning to compare pyramids to pomegranates. The old hierarchical and structured system has given way to today's more decentralised, globalised, agile and levelled approach to companies and business with a very consumer-centric focus, which is very much in line with women's leadership style and approach. In fact, this shift is very much driven and influenced by the increasingly important and central role women are playing in the workforce and the market place, yet despite this, the majority of leadership teams remain 90% male.
"Today women represent most of the talent pool and much of the market, Avivah explains, […] but the subject of women and gender has long been framed as an interesting but somewhat minor issue in the business world." This is all about to change according to her, since at this moment in time we are witnessing a massive global and historical shift with women representing 60% of university graduates in many countries, setting up most of the new companies in the US, filling three quarters of the jobs created in Europe since 2000, making 80% of consumer purchasing decisions in the US, and the list goes on.
As CEO of the leading gender consultancy, 20-first, and author of two best sellers, Why Women Mean Business and How Women Mean Business, Wittenberg-Cox has the facts and figures as well as the road maps and solutions which leave no doubt in anyone's mind that women mean business. Bigger, better, faster, more. Today's reality is that women are good for business.
"Recent studies complement and reinforce a wealth of evidence that gender balance is good for economic growth and wellbeing, as well as for the business bottom line", she tells a room that is not gender balanced, only a quarter of the audience is men, representing companies such as Pictet, Julius Baer, Dupont, Caterpillar, WWF, and Korn & Ferry.
"Gender is a business issue, not a "women's issue"
Avivah includes women and the issue of gender in the 4 Ws that are changing the lives of countries, companies and couples all over the world, the 3 others being the Web, the Weather and the World in terms of economic and geopolitical reshuffling. One of the main questions she poses is: "What's the matter with our organizations if we can't recruit, retain, and promote the majority of the educated talent in the world today?" Note that she doesn't talk about fixing women but: "… adapting organizational cultures and management styles to new talent and market realities."
In order to design – and be accountable for – more gender balanced businesses men must be included in the conversation, especially men in senior management. They must buy in to the necessity and benefit of this and become gender-'bilingual' in the process, along with everyone else. "There is a growing acceptance that women and men can be equal and different, and that what adds value is the optimisation of these differences, not their suppression," she explains.
Isn't equality part of the answer, you might ask? Apparently not. In fact this strive for equality has side tracked the promising careers of countless women. Just think of the number of companies that evaluate and groom young talent for leadership and power, whose programmes kick off for managers in their early 30s… "This is exactly the moment in life when high-achieving, ambitious professional women tend to get married and have children," says Avivah. This 30-35 window is a very effective way of eliminating women from the leadership pool and is one of those systematic blindspots that no one sees.
"A related issue is the strong belief in many organisations that they are healthy meritocracies. If people are good, most leaders believe, they will naturally rise to the top," she adds. The fact that the number of women vs. men begins to fall as soon as you look at the gender balance up the management ladder is not taken into account. However, women are put into question. And the same could be said of power and ambition. "Companies promote "hungry," ambitious people," she explains, but women are less likely to push for power. "Does that mean they are not fit for it?" Surely this obsolete blueprint ought to be updated.
Phil Myers, Pepsico Head of Communication, EMEA, wraps up the talk by explaining that half way through Pepsico's collaboration with Avivah, he had a 'eureka moment', when he understood that gender balance was fundamental to their business. He goes on to add that the company has to be better at communicating the business case since it is about empowering everyone and not just one group: "This is not about promoting women, but having a workforce for the 21st century."
Getting men to lead the change
Question time brings further food for thought. How do you prepare ambitious 20 year old women for their thirties when their priorities often shift to having a family and their career takes second place? According to one study, women's expectations in terms of career dropped by 30% when they hit 30, whereas before they had been identical to men's. What can be done about this since it comes as a big shock to many women?  And the issue does not only involve family life and children, but changing values and perceptions vis-à-vis work and careers too.
The issue of language around leave also emerges, with companies favouring 'parental leave' to 'maternity leave' to take the focus away from women and value the father's role in childcare. Will this really have an impact? A further concern around the fact that 60% of graduates are female sparks a debate, since the educational system has over-feminised and men are falling back. "Who are our daughters going to marry if this goes on?" Avivah ponders.
As for the question of talent mobility, one of the answers involves new mothers taking up positions in countries where day care is inexpensive, and gaining international experience in the process, returning later in their career to HQ with valuable knowledge of other markets, etc. This has to be a constructive answer surely?
The debate spills over into the drinks that follow. "The fact that it makes good business sense makes gender balance all the more compelling," explains Jennifer Bernstein, Strategic Planning Senior Director, West Europe Region, Pepsico. "It was a very inspiring talk, says Taran Bains, Independent Wealth Manager. I've done a lot about boards and no one focuses on gender balance and we need to be focusing on this."
Andrea Bastreghi, INSEAD alum, sums up the talk from the male perspective: "As a man I found it interesting and refreshing, since the attitude was very engaging, friendly, intelligent and non-confrontational. I was positively surprised because there were quite a few men there." Andrew Hunziker, ex-Swiss IAA President, expresses his surprise at the lack of men: "It was such a great talk but it's a shame there was an imbalance between men and women in the audience since it's a stimulating topic and I agree with the view that this is the future." And since all the participants leave with copies of Avivah's two bestsellers, thanks to Pepsico's generous sponsorship, the future will spread fast.
A small dinner for INSEAD Alumni and special guests follows. Richard Bissonnet, President IAA Switzerland, makes a short speech thanking Avivah for her inspiring talk, and Leila and Rumyana Dorlas, Vice President IAA Geneva, for organising the event. Albert Van Daalen, Harvard Business School Class of '53, reveals to his dinner companions that he wrote a paper entitled: The Changing Role of Women in Business, 57 years ago. And the icing on the cake is that he wrote it with Professor Doriot, the founder of INSEAD! Avivah Wittenberg-Cox, INSEAD MBA '84, is definitely following in a great tradition.